I bought the most amazing candelabra from a thrift store the other day for $2.99.. I knew that there was silver somewhere under the black tarnish but man was it hard to see.
Of course I was so excited to get started on it that I didn't think to get a picture beforehand. I just went ahead and grabbed that bottle of sterling silver beautifier and started working. But after about 15 minutes, I had a teeny little spot uncovered.
This was not going to work.
So I turned to my trusty google and came up with a promising answer...
It involved tin foil, baking soda, water and a big pot.
I put the tin foil down, on the bottom of the pot, covered the candelabra with water and then slowly added the baking soda.
The secret is 1 cup of baking soda per every gallon of water used.
Here is where the light bulb clicked and I realized that I should be taking pictures...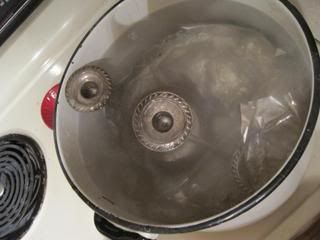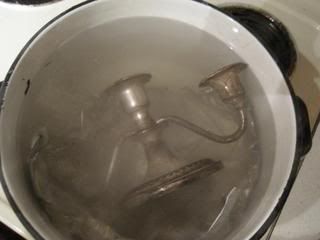 Here is after about 20 minutes in the pot. I didn't have a full cup of baking soda so I'm sure that it would have been faster and better if I had. I've read that you want to add it really slow so that it doesn't spill over.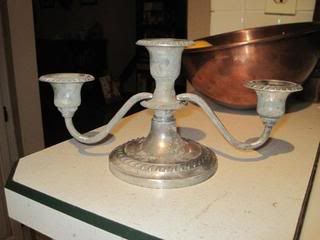 As you can see, when I pulled it out, there was a thin film over it so I grabbed that trusty silver beautifier and buffed my little heart out... After a couple of minutes, here was my end result:

Silver Candelabra
Thrift Store - $2.99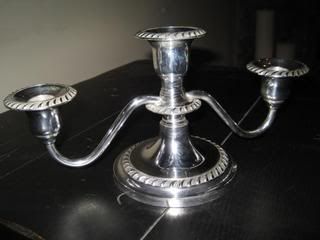 It's now got some beautiful red candle's in it and it's adding some glam to my dining room and I'll be on the look out for some more beautiful silver pieces to boil up. I've been scooping up crystal and silver and I'm excited that now I can stop using elbow grease to banish tarnish.
And I've heard from
Missives from Suburbia
that 3M makes anti-tarnish strips that sit under the piece to keep it from becoming tarnished which I'll be picking up when I get some more baking soda.