Shhhhhh don't tell anyone, but here's a little sneak peak of our still in progress master bedroom. It's getting really close. The to do list is down to Kevan installing my stunning headboard
(a little bit of horn tooting right there...
), me finding and refinishing a nightstand and me decorating the walls...
But just because it's really nice to actually see a finished product once in a while. Here is one of the two Shabby to Chic redo's that were completed yesterday.
We'll start with this gem found on craigslist for $30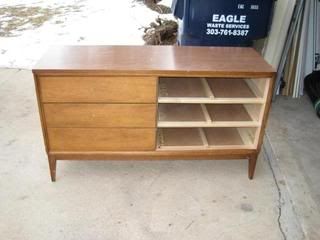 And here it is tonight. I ran into an issue with finding knobs for this beauty. The holes were drilled at such an odd length that I went through three sets of pulls before throwing my arms up and just going with other knobs that I had purchased for the buffet from yesterday and didn't like.
You might recognize the chair from the corner as being the $11 Chair Redo from
this post
.
That Crystal 5x7 (empty) frame on the dresser was an awesome find. Although I had second thoughts about buying it because it was so expensive... 99 cents... For a HANDCUT crystal frame... That was a tough decision right there.
Tomorrow I'll show you the drastic transformation on this piece!! You're not going to believe how gorgeous it is . (Update:
See this finished piece here
)
I'm linking this to A Soft Place To Land,
DIY Day
and