So I've decided to start a blog to chronicle all of the fun projects that I've been working on lately so this is the very beginning of Lost in Tarnation. I'm thinking about importing some of the posts from my previous blog used to keep family updated on our little rascals to show some of the previous things that I've been doing to keep busy on the house.
As I was explaining in my quick post last night, we are in the middle of renovating our very first house which happens to need work on every single square foot. The kitchen has been in progress for over a year. Between both my husband and me working full time and having two kidlets, there isn't a lot of renovation time. We have done just about everything ourselves with the exception of some plumbing work during our first month. From laying hardwood floors, to removing kitchen soffits, to turning our basement into a Pub, to well, you get it. We've been really busy.
And throughout it all, the bedroom has been an embarrassment to someone who loves to decorate and create. I try and avoid bringing people through because things are just thrown up on the walls and it just isn't well... put together. So after two years of living in this house, I decided that enough was enough and started brainstorming what I wanted to do in the bedroom.
It involves two colors of paint, chair rail, vertical stripes, stalking craigslist and local thrift stores for dressers and nightstands and crystal lamps, refinishing those dressers, nightstands and crystal lamps. All of that is in phase one. Once we finish the kitchen and another small project of laying slate tile on our wet bar counter top and wall, we will be moving up into the master bathroom and conquering the nasty old tile that is in the bathroom and putting my favorite slate tile down on the counter tops in the dressing room with our sink. The plan is to get all of those projects done this winter so that come hell or high water (or spring, whichever comes first) we can work on turning the exterior of our house from being another source of embarrassment to something that we are proud of. So you're joining us just in the nick of time to tag along on the rest of our project of turning a destroyed foreclosure into our family home.
I got the idea of refurbishing crystal lamps from
this post
on the amazing
Centsational Girl
blog and have been scouring thrift store's for them. I've been lucky and keep finding ones that I like more and more so now I'm going to use the leftover for my next-next-next project, converting my work office to something beautiful and feminine. Here is the lamp that will be on Kevan's nightstand (the lamp for my nightstand doesn't have godawful brass on it so I don't need to refinish it).
Crystal Lamp
Thrift Store - $2.99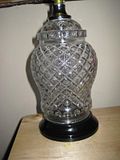 I've become obsessed with dressers. O-b-sess-ed with them. Scouring thrift store's and Craigslist for them constantly. I want beautiful pieces that I can refinish in my favorite, high gloss black paint. Here are the dressers that I've picked up so far. Kevan has to pick up another one from the thrift store this week which I'll refinish next because it turns out the two that I have so far don't have enough storage. The second one might end up in Colton's room.
Dresser 1
Craigslist - $25
Before:
Pretty, but not what I'm looking for
: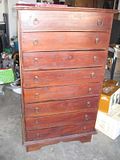 After:
I made a rookie mistake of being so excited to get it in place that I didn't think to paint the sides or tops of the drawers... soooo that will have to happen at some point.
Dresser 2
Craigslist $30
Before: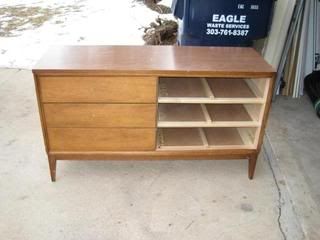 After:
same rookie mistake on this dresser. Excuse the mess, not having enough dresser space means not enough places to put all of our clothes. I haven't found the glass knobs that I want to use on this yet either. But I have a vision.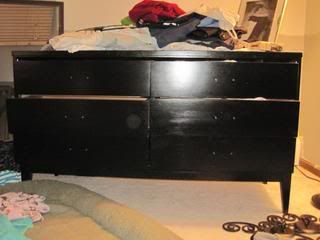 Nightstand 1
Craligslist - $30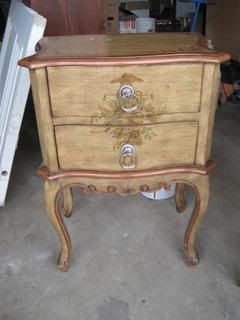 Each thing I refinish for the bedroom becomes my new favorite, but I think that this chair will be my favorite piece for a long time.
Chair
Thrift Store - $4.99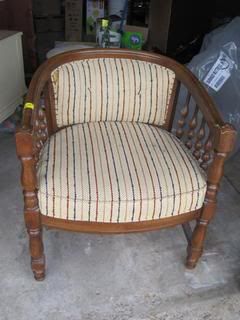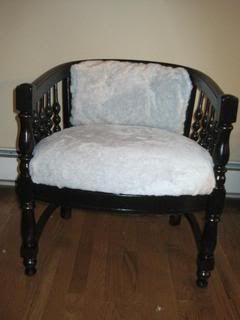 I painted it with (surprise, surprise) high gloss black and reupholstered the fabric with faux seal fur. It was $12 a yard at my local fabric store and I used half a yard for this chair and the next one. I recovered the buttons and sewed them back on, but think that they disappear right now so I might see what I think over the next couple of days and try and find a fabulous black button to put on instead. I'm so proud of this chair! It's my first attempt at reupholstering and after I bought it last week, I was concerned that I had bitten off more than I could chew and that it wasn't going to get finished or that I wasn't going to be ABLE to do it. I was and it was so easy. It took more time to remove the previous hideous fabric than it did to cut, staple gun and replace the cushions.
Dressing Table Chair.
There is dressing table in my dressing room (how fitting.. har har har) and this little chair will go perfect there. It's been spray painted black and recovered with the same faux seal fabric as the previous chair. It's so soft and amazing that I'm thinking about making a small throw blanket out of the same material in black for the bed depending on the sheets I go with
Thrift Store - $4.99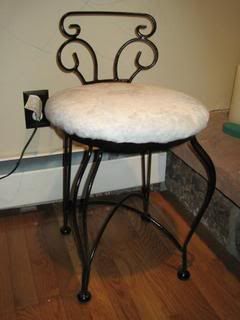 I'm getting closer and closer on the bedroom and am really hoping to have it just about complete by Friday when we have our annual Big Birthday Bash. It would be really nice to be able to walk people through our bedroom with pride for once. Stay tuned as I paint stripes in our dressing room, Kevan installs chair rail, I refinish nightstands and another dresser and of course, all of the rest of the projects we're working on.