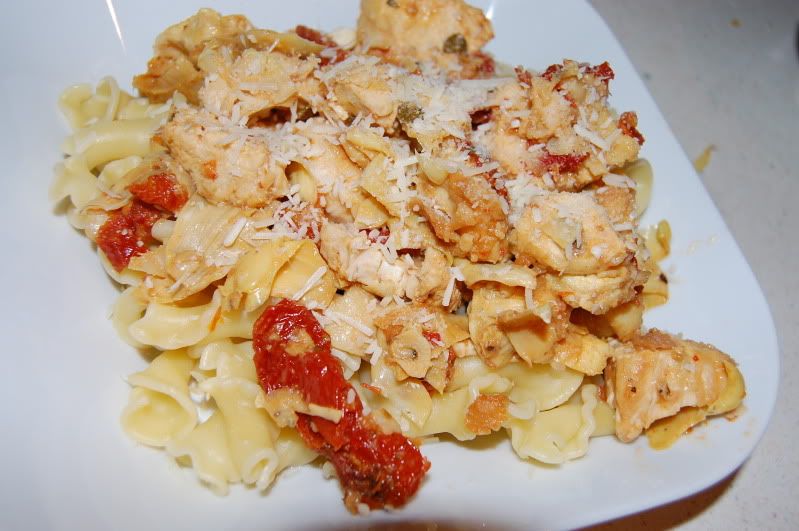 So if you're looking for a blah chicken recipe, this ain't it.
We had a friend come into town for the night last night and I wanted to cook up something truly spectacular to make up for the fact that I still can't remember what the
bleu
cheese recipe that I've been meaning to whip up is. So I searched around on all recipes and found a good starting point and then I embellished.
It wasn't necessarily that I meant to embellish. It was more that I just wasn't paying attention to directions (I rarely do) and ended up just winging it.
Man. It turned out.
I would have taken a picture but that would have entailed using my hands for something other than shoving food into my mouth, and that wouldn't have been polite to my dinner guests.
So here's how it all started......
I grabbed two bowls from the cabinet and cracked an egg into one and dropped some flour, basil, oregano, sea salt and then pepper into the other.
Then I breaded up the chicken. I've heard people say the best way to do that is to just use one hand for the egg part and then one hand for the flour part so that you don't mix the two. That doesn't make sense to me because it seems so much easier to just stick a fork into my breasts and plop them into the egg and then the flour. Easy
Peasy
.
Then I took those boobs and plopped them into a frying pan. I started off just using Pam but then decided against it and so I dumped a little Extra Virgin Olive Oil in the pan and sauteed them.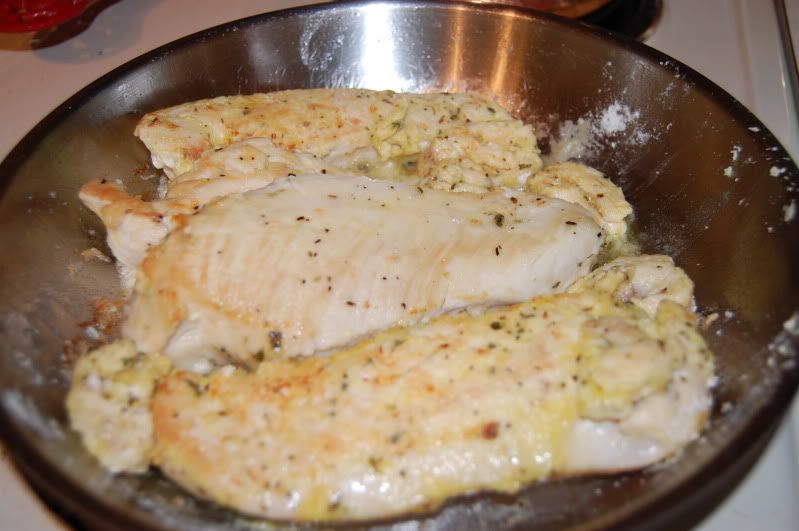 Once the chicken breasts were done cooking, I dumped some chicken broth in (literally... I rarely measure), squeezed 1 lemon into the pan also and turned up the stove to get a nice boil going.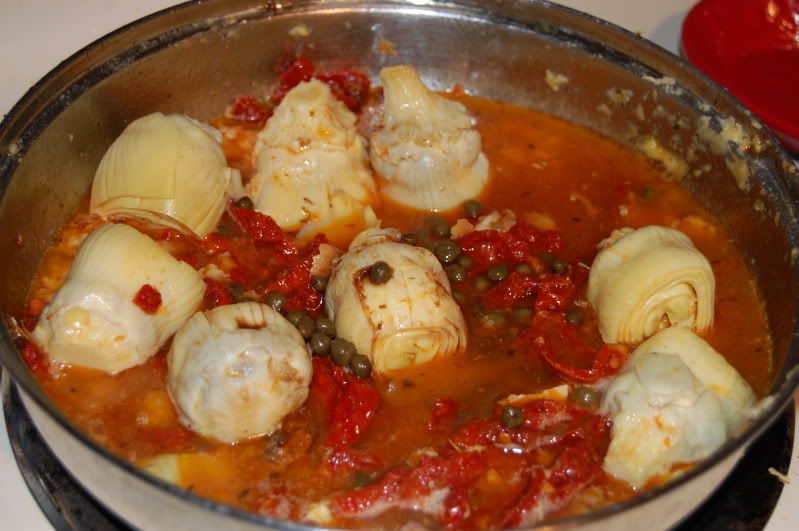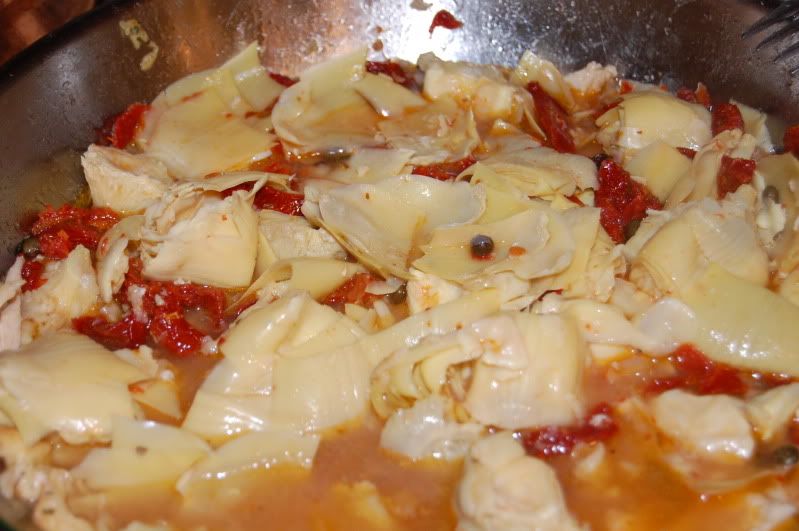 At this point I had a knock out-drag down fight with
Colton
over the other lemon. I won. And by winning, I mean that I didn't end up with lemon squeezed all over my kitchen or nice living room couch. 1 small step for mothers everywhere.
I let the chicken soak in the lemon/broth mixture for about a minute completely by accident because I wasn't thinking clearly. I was supposed to take them out first, but I actually think that by letting them cook for a little while in that juice it really locked in a lot of great flavor and moisture. It's a mistake that I'll make again!!
After about a minute, I took the chicken out of the pot and set it aside. This gave me time to have a couple sips of my beer and strain all of the lemon seeds out of my broth. Then I dropped in a can of drained
un
-marinated artichoke hearts,
sun dried
tomatoes and a lot of capers.
I kept that mixture boiling to cook down some of the liquid and started another pot to cook up some
campanelle
pasta (
my all time favorite pasta
) because at this point, I realized that this would make an amazing pasta sauce. And as a
carb
addict, I just can't say no to pasta. It's just not humanely possible. I can quit smoking, but I can not quit
carbs
. Not even going to try. (
This might hinder my size 2 hopes for my Miami trip in May...maybe
)
It was at this point that I realized I hadn't put any fresh garlic into my pasta. And considering I had just purchased a 5 gallon bag of garlic (
m'kay

, maybe not really 5 gallons, but large regardless
) to cook with that was just
unacceptable
. So I
smooshed
all the
fixin's
of my sauce over to one side of the frying pan to make some room for some quick garlic. I read on Pioneer Woman that the best way to get a garlic clove out of it's shell is to smash it under some canned goods and I couldn't agree more.
The garlic went right into that empty corner of the pan and cooked up for about a minute and then I mixed it up with the rest of the dish.
Voila. Mix it all together with the pasta. Serve it up with a nice Caesar Salad on the side and some fresh Parmesan cheese and just enjoy.
This is going to be a regular dish in our family because it was fun to make and tasted amazing. I love that there was 1 pan to clean up and then the pasta pot. Super easy. But honestly, one of my favorite things about this dish was that it was super easy to make and it's the type of dish that you can make while you're chasing a child in circles around your house trying to take back a lemon and you don't have to worry about it. I love meals that don't require constant attention.
Here's the simple Breakdown, I promise it's super easy:
Sun dried

Tomato Artichoke Caper Chicken
-1 egg
-flour
-basil
-oregano
-sea salt
-pepper
-chicken breasts
-chicken broth
-fresh lemon
-can of artichoke hearts
-sun dried tomato (the ones that are in liquid, not the dried ones)
-fresh garlic clove
-chicken broth
-capers
1. Crack egg into a bowl and beat
2. Mix enough flour to coat your chicken with a couple of shakes of sea salt, pepper, basil, oregano in another bowl.
3. Heat up your frying pan and start
dippin
the chicken boobs.
4. Once the chicken is seared on one side, flip over and sear the other side.
5. Add in enough olive oil to slightly coat the bottom of the pan and cook chicken until done.
6. Pour chicken broth into pan until chicken is 1/2 covered, squeeze a lemon in on top and turn up to medium high heat. Let chicken soak while it starts to boil.
7. Set chicken aside and add artichoke hearts,
sun dried
tomatoes and capers into frying pan. Let the liquid reduce by half.
8. Start boiling the water for your pasta in a pasta pot. Once you have a nice rolling boil, add your pasta in. Cook desired length.
9. Once liquid is reduced, push artichoke,
sun dried
tomatoes and capers over to one side and throw some fresh garlic to cook in the sauce for about a minute. This gets rid of the strong raw garlic flavor. Once the garlic looks browned, mix sauce all together.
10. Serve it.... Eat it and Weep baby... Eat it and weep.
And I have to say Thank You to my amazing friend Kat for doing the dishes!!!