I just can't get enough of Silver and Crystal. I'm utterly and completely obsessed. There just might be an intervention at some point in the near future. Damn you Centsational Girl!!!
So today I continued my quest for the perfect dresser and nightstand for our bedroom at the thrift stores. I found the dresser and a temporary nightstand and will be converting them to Tarnation style hopefully over the next couple of days.
But I found more than just that.
I hit the motherload. Well, the motherload for a silver and crystal obsessed person like myself.
Today was the most random day ever. I started off at one thrift store and found three silver/crystal coasters that I couldn't live without. Here they are after a little lovin' from my trusty silver polish. ($2.99 for the set)
Then I found three beautiful crystal wineglasses at $2 a piece.
Then I ran over to another thrift store close by and couldn't believe it when I found 6 more of the matching coasters (which were also $2.99!!) and the fourth matching wine glass!! I was giggling like a maniac and there might have been some awkward glances in my direction.
In my euphoria, I almost missed my next find.
It's just a beautiful little ashtray. The top of the globe flips back to reveal the frosted ashtray inside. I think that it will be perfect on my desk at the office holding paperclips. Oh, and did I mention that it was $4.99??
Here is that ashtray after some much needed beautification. It's got a silver engraving on the bottom saying that it's William Adams, Made in England. It's Copper Plated Silver and I haven't had time to do a lot of research yet.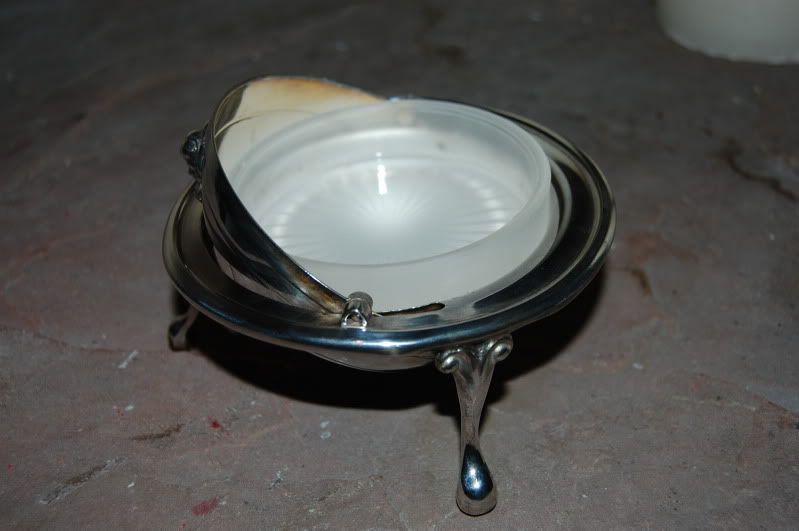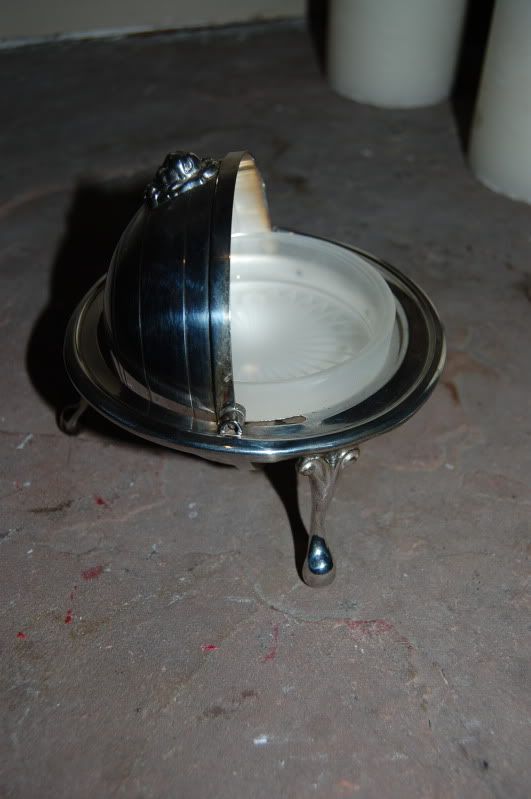 I just about called it at day at this point. Because after the insane find on the dresser, nightstand, coaster, wine glass and ashtray I figured that there was just no way that I would find anything else and I would be wasting my time even trying.
But I'm addicted. I couldn't just walk out at this point. I was committed. I just knew that there was another treasure waiting for me to unearth it.
I almost missed it.
In case you can't tell, it's a wine / champagne bottle cooler with a liner to keep your special bottle cold. How freaking amazing is that. For $8.99. Seriously. I kid you not. Unbelievable. $9 dollars. I love thrift stores.
Here it is after some polish
This piece is marked as Sheffield Silver Co., which is out of Brooklyn, NY and is just gorgeous. I'll be doing some research on this piece to see whether or not it stays with me as one of my most treasured possessions or whether it will go up for sale. It looks a little small in these pictures, but it is a full sized bottle cooler.
I couldn't
boil the silver to remove the tarnish
on the coasters or the wine cooler due to the glass on the coasters or the liner on the cooler. So it involved some elbow grease, but was well worth it.
Tomorrow, the kids go to school and I have a lot of painting to do. I've got a buffet table, dresser and side table to beautify... wish me luck.